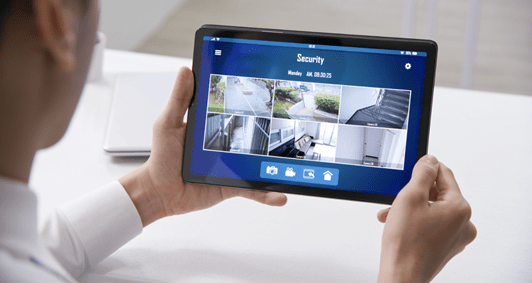 Are you worried about the security of your home but don't want to pay the exorbitant prices that most home security companies charge? More and more homeowners are choosing to rely on self home monitoring through the use of cameras. With so many brands popping up on the market, it can be hard to determine the best brand for your needs. Below is some of the pros and cons of some of the major brands as well as some tips to best use your home cameras.
Ring
Ring's mission is to make homes safer and they use their home security cameras to do so. With two options of home monitoring- professional and self-monitoring- customers are better able to choose the method that works best for them. Ring has three security packages, a 5, 10, and 14 piece security kit as well as the ability to customize your kit with options of over 20 devices.
The free, self-monitoring plan gives you access to motion-activated notifications, real-time video surveillance, two-way audio, and lifetime theft protection. With Ring, video saving and sharing capabilities are not free, but often the presence of a camera is enough to deter would-be thieves.
Blink
With a goal of providing peace of mind to its customers, Blink cameras have two-way audio, customizable motion detection modes, and HD video quality. Blink has a variety of camera options, ranging from outdoor floodlight cameras, video doorbells, and mini indoor plug-in cameras.
Blink offers the ability to store video locally through the use of a Blink Sync Module 2. With this device you can save videos and photos from up to 10 Blink devices. Blink also has two storage plan options that require monthly subscriptions. However, if you do not want to pay for the Blink Sync Module 2 or the monthly subscription, you are able to simply self-monitor and turn on notifications within the app.
Blue By ADT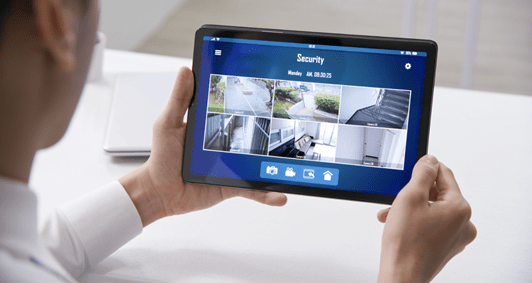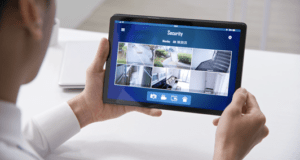 Similar to Ring, Blue By ADT offers three different packages: an 11-piece system, a 15-piece camera system, or the Blue Doorbell Camera System. All of the packages come with a base station, entry keypad, door and window sensors, motion senators, and a yard sign. The packages are all controlled through the ADT app.
The self-monitoring allows you to arm and disarm the system, receive custom alerts, and create access codes for the security system. One of the biggest downsides of the Blue By ADT system is that you are automatically charged for 60-day video storage, regardless of the monitoring plan that you end up utilizing.
Vivint
With a goal of turning all homes into smart homes, Vivint strives to utilize this to keep homeowners connected to their home so that they can proactively protect it. Vivint has five security packages that have equipment such as control panels, entry sensors, and motion detectors. Along with the items included in the security package, Vivant has multiple options for additional security that you could purchase through their company.
If you purchase the security equipment, you are able to self-monitor your system with no additional cost. This system can be monitored through the online application where you can set custom alerts and see the live video feed. If you don't want to use the app, you can also control it through the Vivint Skycontrol panel.
Adobe self Monitoring
With immediate updates, live video, and the ability to control the system through the live app, Adobe's Self Monitoring system allows you to have a DIY security system with no long-term contract. They offer four security packages and a build your system package. All of the packages come with a 93db siren, keyfob, and door and window sensors that send a notification to your phone. There are optional add-on options- all of which can be integrated into the phone application.
Tips
Be careful if you choose to place a camera inside your home. Since these cameras are on the internet they can potentially be remotely accessed by people other than those to who you give permission.
Make sure that if the camera is not set up for night viewing, there is appropriate light available so that the camera is still functional during the nighttime.
Make sure that you set up your camera in a way that it will only trigger a notification when needed, you don't want to get notifications every time someone drives or walks past your home!